Wireless Handheld Vacuum

Old Price

$59.99

Save $20.00
30-Day Money Back Guarantee
30 days for exchanges and returns
Looking for the ideal present for your dear ones? This Wireless Handheld Car Vacuum Cleaner with limited availability is the perfect choice! 😍 Its exceptional suction power effortlessly eliminates all the dust that was previously out of reach!


Super strong fan, blow away dust without residue!



 


Additionally, it functions as a vacuum compressor, efficiently drawing in air to preserve freshness, ward off moisture, prevent spoilage, and isolate bacteria!

Features:
【Compact & Powerful Performance】Despite its lightweight and handheld design, this dust buster boasts impressive capabilities. With a 120W superpower motor, it delivers robust suction of up to 6000/9000pa, making it suitable for both wet and dry vacuuming tasks. Plus, it's incredibly lightweight, weighing in at just 340g/510g.
【Wide Use]The Car Vacuum Cleaner serves a multitude of purposes, from being a computer cleaner blower and laptop cleaner to a desk vacuum cleaner, hand vacuum for cars, pianos, pet houses, and office desk cleaning. It comes equipped with two different head styles, suitable for handling various types of debris and facilitating deep cleaning tasks.
【Wireless and Rechargeable】Powered by USB rechargeable batteries with capacities of 1200mAh/4000mAh, this device boasts motor speeds of up to 31000RPM/38000RPM. Thanks to its rapid charging technology, the Enhanced Edition can fully charge in just 4 hours (Overcharge protection function is available exclusively in Enhanced Edition products). This provides approximately 15-20 minutes (WHITE/BLACK) / 31 minutes (GREY/GREEN) of uninterrupted operation time, making it more than sufficient for tackling most areas in your house, office, or car.

[Enhanced and Durable Washable Filter] To clean the filter in the Cordless handheld vacuum, simply remove it from the dust cup, rinse it with water, and let it air dry. The filter is designed to be safe for soaking and washing.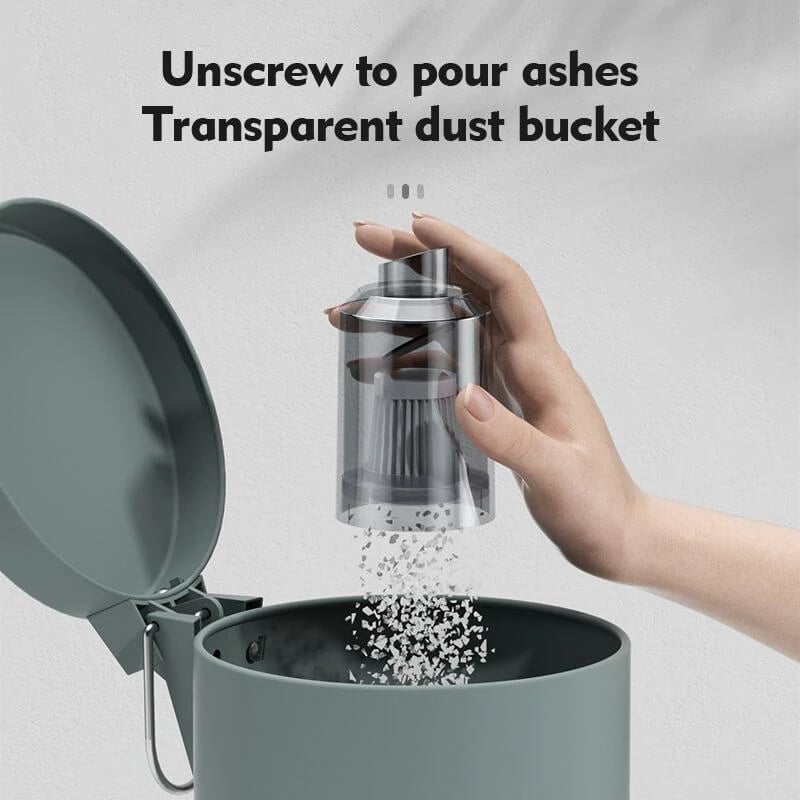 【For cleaning lights】Black and white vacuum cleaners are equipped with cleaning lights.


Specifications:
Power: 120W

Battery Capacity: 2200mAh

Charging Time: 3-4 hours

Working Time: 20-25 minutes

Dustbin Capacity: 500ml

Noise Level: less than 70dB
PACKAGE INCLUDED
1 USB charging cable

1 piece * brush tip

1 piece * long mouth straw

1 piece * filter element